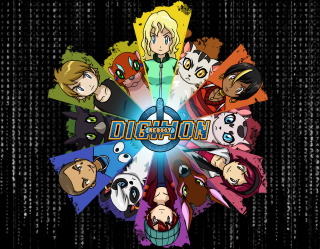 Digimon Reboot

The best season of Digimon that we never got. Digimon Reboot is a fan-made webseries by Rebekah L., Keisha P., and Zuza J. featuring an entirly new continuity, cast of characters, and of course, Digimon. Unlike other fics, Reboot features multiple "screen caps" during each episode/chapter as well as fully animated evolution sequences. How cool is that?
The premise centers around a cast of eight young adults who have been partnered with their Digimon since birth. No one is sure why, but they've assimilated into their lives happily. Suddenly, antagonistic Digimon begin appearing in the real world, and each of these individuals begin to realize they were not the only ones who have Digimon partners...
Since thecharacters are adults, the story has more mature themes and scenarios compared to the anime, but certainly not in a "dark-edgey" type of way. Each chapter is crafted like an episode of a show, and weaves into a cohesive narrative that's hard to stop reading.
I recommend this to every Digimon fan out there. The content is high quality, and better than most of the anime seasons. The creators poured their hearts into this, and unlike many other fan projects, actually finished it!
Read it for yourself at the Digimon Delta!